2015-049
April 28, 2015
The Benefits Byte is the American Benefits Council's regular e-mail and online newsletter for members only, providing timely reports on legislative, regulatory and judicial developments, along with updates on the Council's activities in support of employer-sponsored benefit plans.
The Benefits Byte is published by the American Benefits Council, based on staff reports and edited by Jason Hammersla, Council director of communications. Contact information for Council staff related to specific topics can be found at the end of each story.
Click here to read past issues on the Benefits Byte Archive page.

Rep. Courtney Introduces Legislation to Repeal PPACA Excise Tax Joined by Council President Klein, Organized Labor and Public Employer Representatives
The Middle Class Health Benefits Tax Repeal Act, a measure to repeal the 40 percent excise tax on "high-cost" plans enacted as part of the Patient Protection and Affordable Care Act (PPACA), was introduced by Representative Joe Courtney (D-CT) on April 28. An official one-page background document is also available.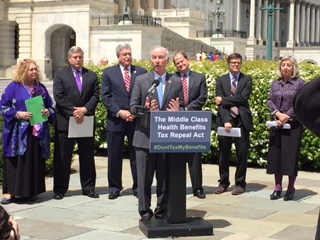 Council President James Klein was invited to speak at an official event announcing the introduction of the bill as the representative of the business community. "The 40 percent excise tax is flawed conceptually and in its construction, and must be repealed," he said. "Passage of the Middle Class Health Benefits Tax Repeal Act would prevent this tax from wreaking havoc on employer-sponsored health coverage that provides great value to American workers and families."
The nondeductible 40 percent excise tax, established under Internal Revenue Code (IRC) Section 4980I, applies to "applicable employer-sponsored coverage" in excess of statutory thresholds (in 2018, $10,200 for self-only coverage and $27,500 for family coverage). The tax was intended by framers of the law as a "revenue raiser" to pay for other aspects of PPACA and to address mitigate what perceived overly-generous health coverage.-. Available on the Council website, for members only, is an updated Benefits Blueprint summarizing the statutory requirements of the tax andan updated companion document with answers to certain "Frequently Asked Questions" regarding the excise tax.
The U.S. Treasury Department and Internal Revenue Service (IRS) have not yet issued rules for complying with the tax. In February, the IRS issued Notice 2015-16, which requests comment on possible approaches. The Council is currently drafting written comments, which are due May 15.
The Council has already expressed strong concerns about the consequences of the excise tax and urged its repeal. As Klein noted in his remarks, "The term 'Cadillac tax' suggests it will only affect overly generous plans. But research estimates that in 2018, more than one-third of employer-sponsored plans will trigger the tax unless the value of those plans is significantly reduced. But the greater long-term concern is that because of the way the cost thresholds that trigger the tax are indexed, eventually even plans that only meet the minimum value required by the law will cross the thresholds."
Courtney's bill, which has 65 original cosponsors (including three Republicans: Rep. Frank LoBiondo (R-NJ), Leonard Lance (R-NJ) and Chris Gibson (R-NY)), explicitly deletes Section 4980I, thereby repealing the excise tax.
An effectively identical bill, the Ax the Tax on Middle Class Americans' Health Plans Act (H.R. 879) was introduced in February by Representative Frank Guinta (R-NH).
Because the Congressional Budget Office has estimated that the 40 percent tax will raise revenues by $87 billion over ten years, repealing this provision will increase the deficit unless Congress finds a way to offset decreased revenue. However, fully three-quarters of that revenue is based on the assumption that employers will substitute the cost savings from reducing health coverage by increasing taxable wages. Neither H.R 879 nor the Courtney bill include ways to pay for repealing the tax and next steps for the bills are unknown. No such legislation has yet been introduced in the Senate.
The Council will continue to advocate for repeal of the tax and other changes to make PPACA less disruptive for employer plan sponsors. For more information, contact Katy Spangler, senior vice president, health policy, or Kathryn Wilber, senior counsel, health policy, at (202) 289-6700.
CMS Embraces Value-Based Payment Approach with Implications for Employers
The U.S. Department of Health and Human Services (HHS) and the Centers for Medicare and Medicaid Services (CMS) have recently announced plans and released a fact sheet on moving the U.S. health care system – and particularly Medicare – toward value-based care, emphasizing quality over quantity of services through new payment models, such as Accountable Care Organizations (ACOs). This restructuring of payment and delivery models have the potential to impact and expand employers' options for providing health care to their employees.
These initiatives are complemented by recent enactment of The Medicare Access and CHIP Reauthorization Act (H.R. 2), which repealed the "sustainable growth rate" used to determine Medicare reimbursements to physicians (see the March 27 Benefits Byte). In addition to the "doc fix" language, the bill also promotes the shift from "volume-to-value" by creating a two-tier payment system that provides incentives for practitioners to shift to value-based payment models, including ACOs.
An ACO is an organization of health care providers that agrees to be accountable for the quality, cost and overall care of Medicare beneficiaries who are enrolled in the traditional fee-for-service program. They are used to facilitate coordination and cooperation among providers to improve the quality of care for Medicare beneficiaries and reduce unnecessary costs.
The administration has discussed the importance of moving from fee-for-service towards value-based care since before the 2010 enactment of the Patient Protection and Affordable Care Act (PPACA) and the introduction of new payment models such as ACOs in 2011 (see the October 24, 2011, Benefits Byte) but had not announced concrete plans or a timeline to implement changes until this year. According to the January 26 fact sheet, HHS has now set the goal to have 30 percent of Medicare payments in alternative payment models by the end of 2016 and 50 percent by the end of 2018. The fact sheet states that "this will be achieved through investment in alternative payment models such as [ACOs], advanced primary care medical home models, new models of bundling payments for episodes of care, and integrated care demonstrations for beneficiaries that are Medicare-Medicaid enrollees."
The release of this timeline provided a needed incentive for providers to increase adoption of alternative payment models, including the new ACO models. These new models attempt to replicate many of the benefits in the Medicare Advantage program for current fee-for-service programs, by aligning payment, benefit design and care delivery to the quality of care instead of the quantity of services.
Another possible benefit of the shift in payment delivery from volume to value is improved outcomes while reducing costs for both individuals and employers. The Council supports value-based purchasing, but previously expressed concerns about ACOs, including the omission of antitrust review from the final regulations on ACOs. In 2011, the Council called for antitrust review to ensure that competition is not diminished in the health care marketplace and the prevention of cost-shifting onto private payers, such as employer plans, in the health care system.
The Council will continue to closely monitor implementation of ACOs and the transition to value-based care and will engage with policymakers as appropriate. For more information, contact Katy Spangler, senior vice president, health policy, or Kathryn Wilber, senior counsel, health policy, at (202) 289-6700.
The American Benefits Council is the national trade association for companies concerned about federal legislation and regulations affecting all aspects of the employee benefits system. The Council's members represent the entire spectrum of the private employee benefits community and either sponsor directly or administer retirement and health plans covering more than 100 million Americans.
Notice: the information contained herein is general in nature. It is not, and should not be construed as, accounting, consulting, legal or tax advice or opinion provided by the American Benefits Council or any of its employees. As required by the IRS, we inform you that any information contained herein was not intended or written to be used or referred to, and cannot be used or referred to (i) for the purpose of avoiding penalties under the Internal Revenue Code, or (ii) in promoting, marketing or recommending to another party any transaction or matter addressed herein (and any attachment).