2015-012
January 29, 2015
The Benefits Byte is the American Benefits Council's regular e-mail and online newsletter for members only, providing timely reports on legislative, regulatory and judicial developments, along with updates on the Council's activities in support of employer-sponsored benefit plans.
The Benefits Byte is published by the American Benefits Council, based on staff reports and edited by Jason Hammersla, Council director of communications. Contact information for Council staff related to specific topics can be found at the end of each story.
Click here to read past issues on the Benefits Byte Archive page.

Dow Witness Testifies on Council's Behalf in Senate Hearing on Employer Wellness Programs
The Senate Health, Education, Labor and Pensions (HELP) Committee held a hearing on January 29 to discuss employer wellness programs, including the cause and effect of legal action recently undertaken by the Equal Employment Opportunity Commission (EEOC). Dr. Catherine Baase, Chief Medical Officer for The Dow Chemical Company, provided testimony on behalf of her organization as well as the American Benefits Council.
While the Senators and witnesses shared varying levels of concern about the potential of voluntary workplace wellness programs to discriminate against people with disabilities, all were united in calling on the EEOC to issue rules as soon as possible addressing the legal treatment of wellness plans under the Americans with Disabilities Act (ADA) and the Genetic Information Nondiscrimination Act (GINA).
As we have previously reported, the U.S. District Court for the District of Minnesota recently denied an EEOC request to issue a restraining order and preliminary injunction against Honeywell International Inc.'s wellness program. It was the third lawsuit filed by the EEOC in recent months challenging employer-sponsored wellness programs, alleging that the employers were violating ADA and GINA by imposing penalties on employees who decline participation in the company's biometric screening program.
At that time, the Council criticized the EEOC for pursuing litigation before issuing guidance on what constitutes a "voluntary" wellness program.
Baase outlined this principle in her testimony, echoing the recommendation in the Council's recently released strategic plan, A 2020 Vision. "A critical component of encouraging employers to offer meaningful wellness programs is consistent federal policy that promotes the health of Americans and is aligned across multiple agencies and Congress," she said. "I can understand why some employers are concerned with the legal uncertainty that exists with respect to the application of both GINA and the ADA to employer wellness programs. Employers should not have to face this confusion. We encourage Congress and the EEOC to work within the existing legislative and regulatory framework to provide certainty to employers."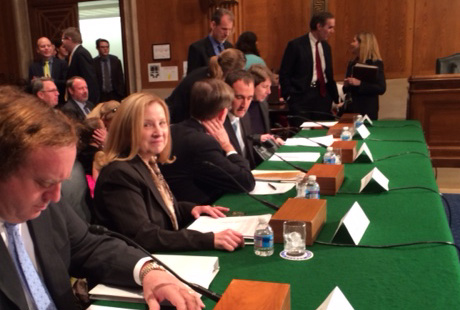 Baase's full testimony emphasized the essential role that employers play in improving societal health. She cited Dow's extensive experience in promoting the health of its workforce as well as the positive financial results since 2004. Dow spent $4.8 million less in 2013 U.S. health care costs than they would have spent if they had experienced the industry average trend.
In opening the hearing, HELP Committee Chairman Lamar Alexander (R-TN) voiced his interest in advancing wellness programs for the 159 million Americans covered by employer-sponsored health insurance. "Wellness programs are turning the table on the health care system, to make it more oriented to the individual. How do we help people be healthy instead of curing them when they're sick?" He referenced the Patient Protection and Affordable Care Act's (PPACA) bipartisan provision to strengthen workplace wellness programs, asking how well it was working, and if the recent EEOC action is disrupting employer adoption of these programs.
Ranking Democratic member Patty Murray (D-WA), in her opening statement, also touted the value of wellness programs and preventive care, but expressed concern about stories of workers "being pressured to share personal health information, or losing coverage."
In addition to Baase, the committee heard testimony from the following witnesses:
Asked by Alexander during the question-and-answer period what the appropriate solution was, Dreiband asserted that if EEOC will not act, Congress should enact a legislative fix. To a later question from Sen. Tim Scott (R-SC), Dreiband called the EEOC's current approach "patently unfair."
Alexander also asked the panel if the EEOC actions were discouraging employers from adopting wellness programs. Loveman agreed that the current legal environment "has given us pause." Baase added that the EEOC lawsuits have had a "dampening effect."
In response to a question from Sen. Johnny Isakson (R-GA), about other ways to reduce costs besides wellness programs, Baase cited collaboration with health care providers, reforms to payment policies to better align cost and quality, and community outreach as helpful measures for reducing costs.
At the close of the hearing, Murray said she had been assured that EEOC would be issuing new regulations very shortly, and she hoped the witnesses and other members of the public would provide comments. The Council will be monitoring the matter very closely and anticipates filing comments with the commission.
For more information on wellness matters, contact Katy Spangler, senior vice president, health policy, at (202) 289-6700.
Senate Finance Committee Approves Bill to Exempt Veterans from PPACA Employer Mandate Calculations
In a January 28 mark-up session, the U.S. Senate Finance Committee unanimously approved a revised version of the Hire More Heroes Act (H.R. 22).
The measure would exempt veterans already enrolled in coverage under TRICARE or the U.S. Department of Veterans Affairs (VA) from being taken into account for the purposes of determining if an employer is subject to the employer mandate under the Patient Protection and Affordable Care Act (PPACA). The bill was passed by the U.S. House of Representatives by unanimous vote of 412-0 on January 6 (see the January 7 Benefits Byte).
The PPACA "shared responsibility" employer mandate under Internal Revenue Code Section 4980H requires employers with 50 or more full-time (or equivalent) employees to offer health coverage that satisfies affordability and minimum value requirements to their full-time employees or pay a penalty if even one full-time employee receives a premium tax credit for health coverage obtained through a health insurance exchange. (Under transition relief for 2015 the threshold is 100 employees; after 2015, the threshold is 50 employees.)
In his opening statement, Chairman Orrin Hatch (R-UT) noted the measure's unanimous, bipartisan support, citing the previous House vote. He stated that H.R. 22 will incent employers to hire veterans and help both veterans find employment and the small businesses who want to hire them.
Ranking Democratic member Ron Wyden (D-OR) added that this measure "simply acknowledges current law," as a veteran with health coverage under TRICARE or the VA would never receive subsidies from insurance on the individual market anyway.
Numerous amendments were offered for consideration by the committee, but all were withdrawn. The most notable amendments were:
The Protecting Volunteer Firefighters and Emergency Responders Act, to exempt emergency services volunteers as well under the shared responsibility requirements contained in the PPACA, was offered as an amendment to H.R. 22 by Senators Patrick Toomey (R-PA) and Mark Warner (D-VA). (The measure was introduced as a stand-alone bill in the Senate in the previous Congress as S. 1798 and was recently introduced in the U.S. House of Representatives as H.R. 33. It passed the House on January 12 by a unanimous vote of 401-0.)
The Family Coverage Act, a measure to align PPACA with Congressional intent by defining affordable job-based health coverage by what is affordable for a family, not just an individual employee, was offered by Sen. Robert Casey, Jr. (D-PA) and co-sponsored by Sen. Sherrod Brown (D-OH). (Sen. Al Franken introduced the measure as S. 2434 in the previous Congress and garnered 23 Democratic cosponsors.)
An amendment to prevent small businesses from being penalized for providing monetary assistance to their employees to purchase insurance on the individual market on a pre-tax basis was offered by Sen. Charles Grassley (R-IA).
H.R. 22 now advances to the full Senate for consideration, although broader action has not yet been scheduled. For more information, contact Katy Spangler, senior vice president, health policy, at (202) 289-6700.
The American Benefits Council is the national trade association for companies concerned about federal legislation and regulations affecting all aspects of the employee benefits system. The Council's members represent the entire spectrum of the private employee benefits community and either sponsor directly or administer retirement and health plans covering more than 100 million Americans.
Notice: the information contained herein is general in nature. It is not, and should not be construed as, accounting, consulting, legal or tax advice or opinion provided by the American Benefits Council or any of its employees. As required by the IRS, we inform you that any information contained herein was not intended or written to be used or referred to, and cannot be used or referred to (i) for the purpose of avoiding penalties under the Internal Revenue Code, or (ii) in promoting, marketing or recommending to another party any transaction or matter addressed herein (and any attachment).